"Guided by wish, we are destined to meet."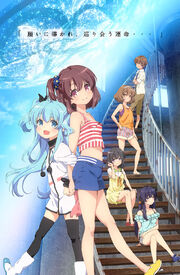 Sora no Method (天体のメソッド, Tentai (Sora) no Mesoddo?, lit. Method of Celestial Body) is an upcoming original TV anime series produced by Studio 3Hz. The story is written by Naoki Hisaya and the character designs were illustrated by QP:Flapper.
The story begins one winter day when the wish of a few girls was realized with a miracle, changing the landscape of a town. What really did happen?
Characters
Edit
Voiced by Shiina Natsukawa
Voiced by Aki Toyosaki
Voiced by Haruka Yoshimura
Voiced by Mikako Komatsu
Voiced by Inori Minase
Voiced by Kaito Ishikawa
Director: Masayuki Sakoi
Original Concept, Script: Naoki Hisaya
Original Character Design: QP:flapper
Character Design, Chief Animation Director: Yukie Akitani
Large-Scale Props: Ripa
Small-Scale Props: Yukiko Furusawa
Art Setting: Kazushige Kanehira (KUSANAGI)
Art Director: Hiromu Itou (KUSANAGI)
Color design: Rie Katoh
Director of Photography: Kazuto Izumida (T2 Studio)
Editing: Takeshi Sadamatsu (Satelight)
Sound Director: Jin Aketagawa
Sound Production: Lantis
Image Song: Larval Stage Planning "North Method"
Opening Theme: Larval Stage Planning "Stargazer"
Ending Theme: fhána "Interlude of Stardust"
Producer: Infinite
Animation Production: Studio 3Hz
...